Current HVAC technology often treats fresh air load as a mixed part of the overall system load and while strategies exist to manage and reduce its load impact these can now be greatly improved though the use of the Zephir3 system and design philosophy saving energy and simplifying the building mechanical services design. 

The traditional primary air systems are typically composed by modular hydronic air handling units (AHU), heating and cooling generators, vector fluid piping network, air ducts, pumps, storage tanks and a variety of other devices (valves, controls, insulation, etc.) necessary to complete the system. The devices are managed by a central control system, where the logic is developed case by case. All devices require proper placement in technical spaces, making it necessary an integrated architectural design to allow proper installation and maintenance and the passage of pipes and ducts in shafts and underground passage.
The stand-alone ZEPHIR3 system independently produces the heating and cooling capacity for the primary air treatment. It uses the reversible heat pump technology and recovers the energy from the exhaust air. In this way it allows, compared to traditional systems, an annual savings up to 50%. It eliminates the energy consumptions of traditional systems, as pumping, storage, fluid piping network leaks and saves up to 30% on ventilation. It simplifies the system, because it is not necessary any connection to central hot and chilled water with 80% less of works on site. ZEPHIR3 by Clivet is an industrial product, optimized and tested for the maximum reliability of results.
To assist in visualizing the Zephir decentralized system design philosophy we break down the change from today--> future HVAC in 4 steps for a typical office building.
CURRENT TRADITIONAL HVAC SYSTEM LAYOUT: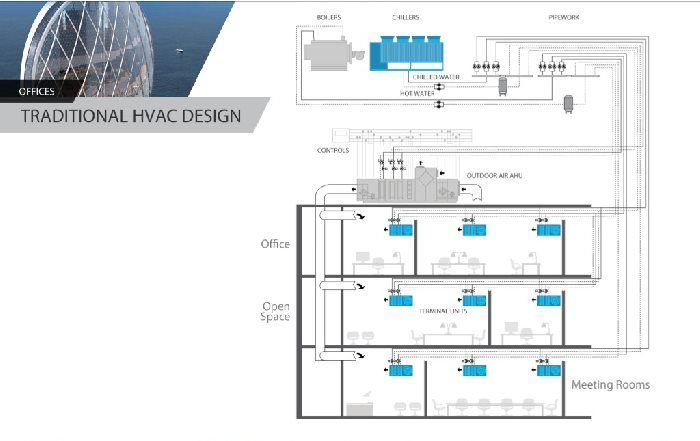 STEP 1 - HEAT PUMP OPPOSED TO CHILLER+BOILER
No Boiler, reduced equipment connections, simultaneous heating and cooling with higher efficiencies, no local emissions.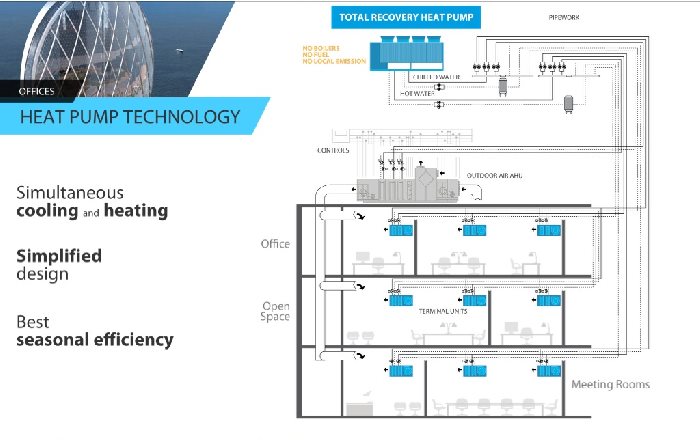 STEP 2 - ZEPHIR3 OPPOSED TO AHU FOR CENTRAL FRESH AIR / REDUCED HEAT PUMP
Dedicated fresh air system, less pipework, reduced heat pump size, dedicated fresh air operating at higher efficiencies.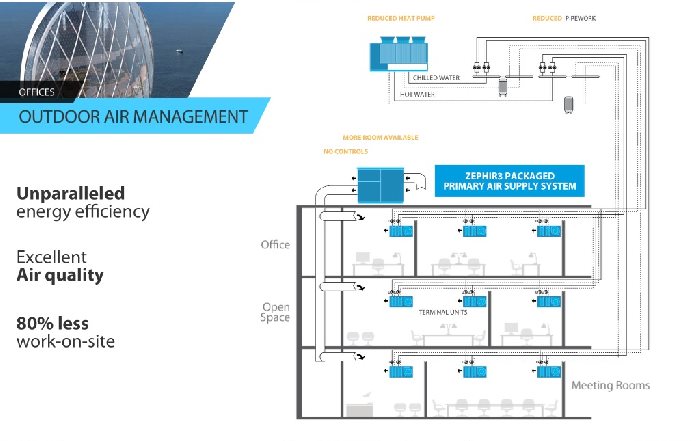 STEP 3 - MEETING ROOM DEDICATED UNIT - REDUCED ZEPHIR - REDUCED HEAT PUMP
In this case infrequently used meeting rooms separated, dedicated high occupancy packaged unit, reduced ducting, smaller Zephir unit, further reduced heat pump, reduced hydronic pipework.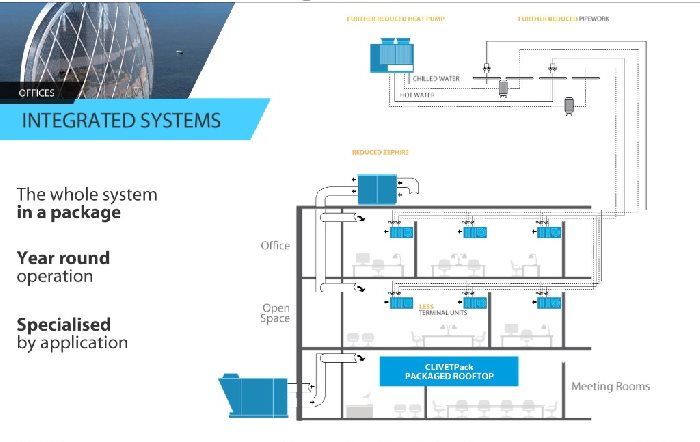 STEP 4 - SEPARATE FRESH AIR ZONES FOR INCREASED OPERATIONAL SAVINGS / LESS DUCTWORK
Using separate fresh air treatment systems plus CO2 sensors means you can treat only the required air and save operating costs.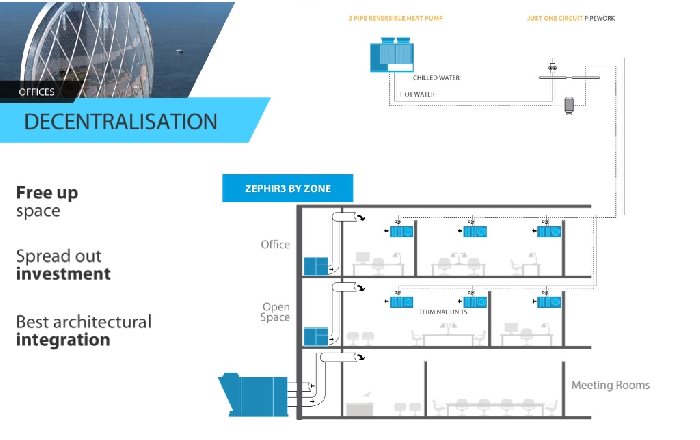 The above is a snapshot of how using the Zephir design philosophy can make for higher efficiency simpler sites:
-Easy for consultants (quick part selections, less hydronic pipe calculations) = faster for consultants
-Easy for mechanical services (Reduced pipework, reduced ducting, less hydronic balancing) = less site work for contractors
-Best for Owners (Decentralized, higher efficiency, cost savings) = reduced total cost of ownership
---
DOCUMENT
Link to Zephir3 product information
Download case study on Zephir3 application
Zephir3 example for hotels - Shopping centers - Hospitals & more available on the CLIVET iPAD APP.