As Australia's urban compactness grows, exterior space and sound emissions become increasingly important and in focus. Ducted air cooled chillers are a perfect product available to meet these challenges. Basement or mid building plant rooms using ducted air flow can often be made available when outdoor space is at a premium.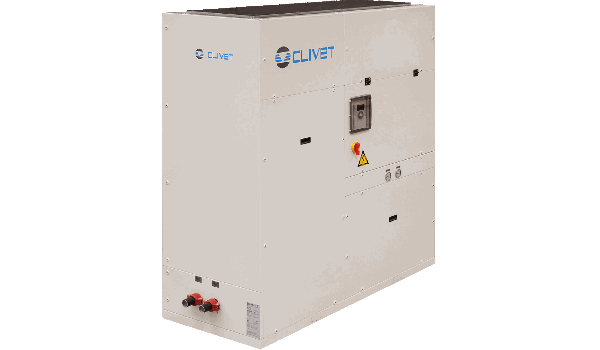 There are many chillers on the market that claim to be "duct suitable" and while they might have the ability to indeed incorporate some degree of ducting its usually limited to short distances and limited to 50..120Pa of dynamic pressure drop.
Clivet's range of dedicated true "ducted" chillers can operate with up to 570Pa of air pressure drop and are truly duct worthy and able to be used in most applications. The incorporate electronically commutated (EC) condenser fans capable of seamlessly adapting their speed from 10-100% to match the system requirements whilst being energy efficient.
Other key features of these products are:
Multi-scroll technology using R410A  with zero ozone deleting refrigerant
Brazed plate heat exchangers using lower refrigerant charges and high heat transfer efficiency
Siemens programmed logic controllers
Electronic refrigerant valves
Quality accessible powder coated panelling, with strategic access to key components for easy serviceability. 
Applications:
High-rise buildings
Convention centres
Inner city buildings
Suburban retail outlets close to residential zones
Chillers in car parks which need duct-able and possible air filtration
Document Links:
ElfoEnergy Duct medium 36kW..102kW: Click here
SpinChiller2 Ducted 115kW..318kW: Click here