Wineries are at the heart of Australian industry and a proud locally produced product and export. Our range of chillers are perfectly suited to meet the needs of modern wine makers with robust operation that's simple to understand.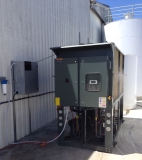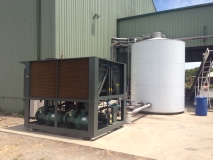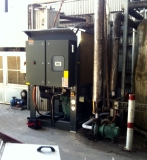 Winery chillers regardless of mix between red & white will still see bulk cooling demand for only a short period of the year with the remainder of the year the chiller is operating at low loads or completely off. For this reason chillers have to both be suitable for peak but also part load operation.
Picking has rapidly become a science which means the perfect picking is done specifically on the day or often night chosen, as this coincides with the Australian summer this can hence occur in temperatures ranging from 15…40oC. As such winery chillers must have the ability to operate at high chilling capacities at high ambient temperatures. Our chillers as standard can operate up to 46oC and then function in part load up to 53oC. In most circumstances this will be enough but when it's not, we also offer hybrid mist systems than can activate at high ambient to ensure 100% operation even above 46oC.
Our standard range of chiller can operate down to -7oC leaving glycol temperature and our custom range down to -12oC. Most insulated wineries can cold stabilize quickly and effectively with our standard range while some with uninsulated sites require our custom range.  
Past technology and operation total life cycle cost of ownership must be considered. While quality wine surely must not be considered a commodity cost of production still affects the bottom line. Our chillers are cost effective to purchase, simple to install and maintenance friendly. 
For information or chiller selection please contact our sales team here.
PRODUCTS:
See Product section - WSAT-XIN small inverter chiller 4kW..50kW
See Product section - WSAT-XIN magnum inverter chiller 50kW..84kW
See Product section - WSAT-XEE basic chillers 24kW..216kW
See Product section - SpinChiller3 large capacity 267kW..1350kW
See Product section - ScrewLine3 large capacity 485kW..1423kW